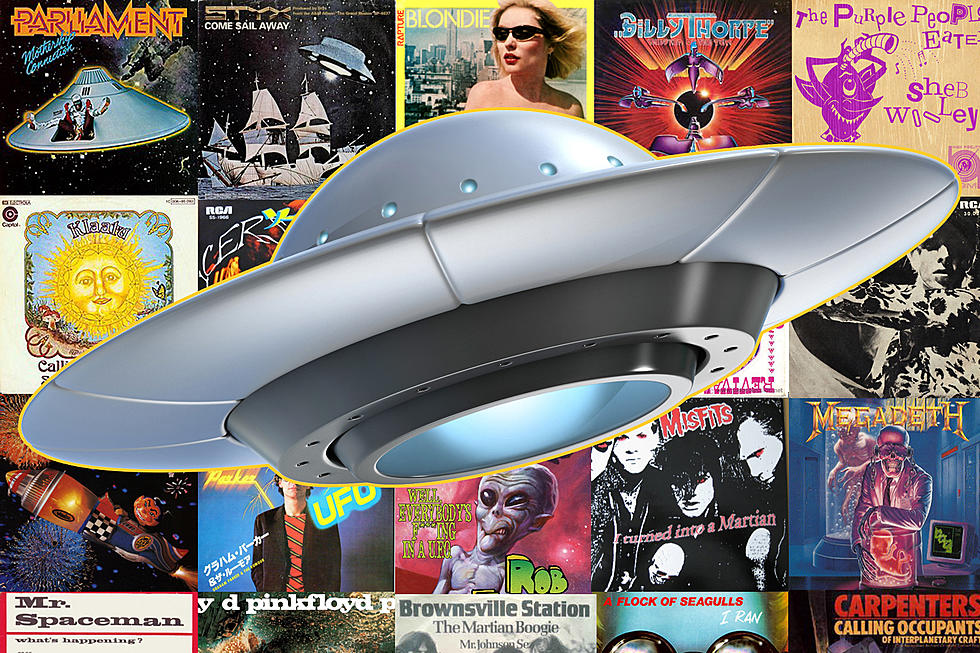 UCR
The space race and rock 'n' roll launched at the same time, so it's perhaps no surprise artists have looked to the skies for inspiration.
We're celebrating that lifelong connection with this list of the Top 30 Songs About UFOs.
Some tunes focused on rocket men and space cowboys, while others ruminated on the idea of extraterrestrial beings invading earth's orbit. Early rock hits such as Sheb Wooley's "The Purple People Eater" went the route of the novelty song, while classic-rock artists wrote about UFOs in a grander context (or even named themselves after these unexplained spacecraft).
We take a look at the Top 30 Songs About UFOs below.
30. Pixies, "The Happening"
From: Bossanova (1990)
Where's the first city you would want to visit on Earth? In "The Happening," Pixies frontman Black Francis imagines that the aliens have chosen Las Vegas. He vividly describes the pandemonium that ensues, as emergency CB transmissions spread the news and cars fill unexpectedly rainy desert highways to get their glimpse of our otherworldly visitors. (Matthew Wilkening)
29. Fleetwood Mac, "Hypnotized"
From: Mystery to Me (1973)
Even the jazzy chords in Fleetwood Mac's "Hypnotized," written and sung by Bob Welch, stir up eerie feelings. Things start innocently enough — two friends are simply having coffee together when something goes by outside the window. Welch then recalls some other strange stories: a pond in North Carolina with sides like glass, a place in Mexico where people can fly about at will without any plane or engine. (The first of these examples is based on a real-life "anomalous depression," as Welch told Songfacts in 2012, near Winston-Salem that a friend had told him about. The second refers to a character in a Carlos Castaneda book, Don Juan the Yaqui Indian "sorcerer.") Ultimately, Welch decides the only thing more curious than a UFO itself is the stories we make up about them, "because there's no explaining what your imagination can make you see and feel." (Allison Rapp)
28. Sheb Wooley, "The Purple People Eater"
From: Single (1958)
Inspired by the joke a friend's child told, Sheb Wooley reportedly wrote this light-hearted, chart-topping track about an alien invasion in less than an hour. "The Purple People Eater" has gone on to become one of the most famous novelty songs of all time, and its title was adopted as the nickname for the Minnesota Vikings' famed '70s defensive line. The "one-eyed, one-horned" flying monster described in the song is here to get a job in a rock 'n roll band, not to devour anybody. That's lucky for him since there aren't many purple-hued people here on Earth. (Wilkening)
27. Rob Zombie, "Well, Everybody's Fucking in a U.F.O."
From: The Electric Warlock Acid Witch Satanic Orgy Celebration Dispenser (2016)
Watch out for warp-speed whiplash as we jump from the most kid-friendly song on our UFO songs list to the one with the most NSFW lyrics. In Rob Zombie's foul-mouthed invasion story, the aliens are looking for sex in addition to large-scale destruction, and they're lucky enough to have found the perfect party host. (Wilkening)
26. Foreigner, "Starrider"
From: Foreigner (1977)
"Starrider" is a curious listen which sounds more like a song that the Moody Blues might have crafted than a Foreigner song. It opens with a delicate flute part, played by ex-King Crimson alum Ian McDonald, who had been drafted into the Foreigner ranks. In another curveball, guitarist Mick Jones takes the lead vocal instead of Lou Gramm. But as "Starrider" keeps climbing higher and higher, Gramm steps in at the climax with an appropriately epic vocal part. "Speed increasing, all control is in the hands of those who know / Will they help us grow, to one day be starriders?" The cosmic tale quickly became a live standout once they hit the road in 1977. (Matt Wardlaw)
25. Ramones, "Zero Zero UFO"
From: Brain Drain (1989)
Dee Dee Ramone co-wrote a couple of paranormal punk tunes for his last Ramones album: "Pet Semetary" (written in concert with the movie's release) and "Zero Zero UFO." Joey Ramone growls the lyrics about a man in Idaho who witnesses the landing of an alien spacecraft that "did not look like it came from Japan." A strange man approaches him, but we're not told much about what happens after that, except that the general public isn't likely to believe tall tales told by potato farmers. (Bryan Wawzenek)
24. Pink Floyd, "Let There Be More Light"
From: A Saucerful of Secrets (1968)
There's no terror or dread to be found in Roger Waters' tale of a UFO's first visit to a military base, just wonder and enlightenment. The opening track from Pink Floyd's sophomore album borrows a character from the Beatles as "Lucy in the Sky," dazzling in flowing robes, is the being revealed once the outer lock of the mighty ship is rolled open to the amazement of the gathered servicemen. (Wilkening)
23. Brownsville Station, "The Martian Boogie"
From: Brownsville Station (1977)
If "Smokin' in the Boys Room" is the only song you know by Brownsville Station, you're in for a real trip with "The Martian Boogie." The B-movie sci-fi story that unfolds across seven minutes, expertly narrated by vocalist Cub Koda, is absolute lunar perfection in its execution. Koda and the Martian have an unforgettable meeting in a late-night diner. The alien has arrived in the unnamed town, it seems because he was told it was the boogie capital of the U.S.A. Brownsville Station allegedly recorded it in a single take, and they were convinced they had the song which would become their biggest hit since "Smokin'." That didn't happen, but it remains a fascinating novelty in their catalog. (Wardlaw)
22. Judas Priest, "Invader"
From: Stained Class (1978)
Judas Priest continued refining and streamlining their anthemic heavy-metal attack on Stained Class, but the album still featured several moments of progressive, sci-fi grandeur that categorized their early output. See: "Invader," a cinematic tale of extraterrestrial visitors launching an offensive blitz against an unsuspecting Earth. Rob Halford's uncharacteristically subdued vocal allows the suspense to build across each verse, while Glenn Tipton evokes dueling laser beams with his soaring guitar solo. Judas Priest's lyrical M.O. of good triumphing over evil stays intact on "Invader," as Halford declares, "We won't give in without a fight, a fight until the end." (Bryan Rolli)
21. Porno for Pyros, "Pets"
From: Porno for Pyros (1993)
Porno for Pyros frontman Perry Farrell is more than ready to roll out the welcome mat for any conquering alien forces who would like to take over the Earth. "My friend says we're like the dinosaurs, only we are doing ourselves in much faster than they ever did," he laments on the first single from his post-Jane's Addiction band Porno for Pyros. His solution is simple: Let somebody else run things. "Maybe Martians could do better than we've done. We'll make great pets." (Wilkening)
20. Misfits, "I Turned Into a Martian"
From: Walk Among Us (1982)
The cover of Walk Among Us, the Misfits' debut album, shows the horror-punk pioneers standing in front of the UFOs from 1956's Earth Vs. the Flying Saucers and the Martian Bat-Rat-Spider from 1959's The Angry Red Planet. The LP inside is a 25-minute tour de force of B-movie carnage, off-the-rails riffing and gang-vocal choruses and nearly all of its songs would be right at home on this list. "I Turned Into a Martian" is one of the grisliest of the bunch, a breathlessly catchy blitzkrieg about an earthling who's possessed by an alien invader and develops an insatiable thirst for murder. "Can't even recall my name – won't you tell me, what the fuck is my name?" Glenn Danzig wails, but one gets the sense that he's enjoying his rampage too much to care. (Rolli)
19. Elton John, "I've Seen the Saucers"
From: Caribou (1974)
Elton John and his co-conspirator Bernie Taupin are no strangers to space-based songs. On the mid-tempo rocker that opens Side 2 of Caribou, John sings about the excitement of a true believer who's taken aboard a UFO. Facing the enormous scope of the universe, the space traveler quickly gets homesick (just like the "Rocket Man") and prays to return to Earth soon: "Maybe if I promise not to say a word, they can get me back before the morning light." (Wawzenek)
18. Sammy Hagar, "Silver Lights"
From: Nine on a Ten Scale (1976)
Sammy Hagar has been obsessed with unexplained phenomena for decades, writing multiple songs (such as this one, from his solo debut) about the universe and the other life forms that may exist in it. "Silver Lights" describes a group of alien beings that visited Earth, then whisked some of the population away while the rest "fought for the broken bits" that remained. In his autobiography, Hagar described a dream he had about having his thoughts uploaded by aliens – something he later claimed wasn't just a dream, but happened to him. If he gets abducted again, it better be in a fast-flying saucer. After all, Sammy can't fly 55. (Wawzenek)
17. Billy Thorpe, "Children of the Sun"
From: Children of the Sun (1979)
This makes our list for Thorpe's out-of-this-world intro alone, one which begins with a series of ominous, heavily processed rhythms before exploding into wave after thunderous wave of streaming spaceships. They descend upon our fair planet, surrounded by a silvery light (and a monstrous riff), then open the door to a new world of sights and sounds – but only after a weightless middle eight that finds the earthlings experiencing zero gravity for the first time. Cool! (Wawzenek)
16. Jefferson Airplane, "Have You Seen the Saucers?"
From: "Mexico" single (1970)
Released as the B-side to the anti-Nixon tirade "Mexico," "Have You Seen the Saucers?" marked the last recording by the classic-era Jefferson Airplane lineup. Over Jorma Kaukonen's furious, wah-drenched lead guitar, Grace Slick dares listeners to consider: What if flying saucers are the least of our worries? What if they're just a convenient scapegoat for bigger, more imminent horrors, like government-launched missiles? What if aliens haven't come to destroy us, but to shake their heads in dismay and beckon us to leave this wretched trash heap behind? As leaders of the countercultural and psych-rock revolutions, Jefferson Airplane dared to dream of a utopia unsullied by human corruption. On "Have You Seen the Saucers?" they realize it might be out of orbit and out of reach. (Rolli)
15. Radiohead, "Subterranean Homesick Alien"
From: OK Computer (1997)
Following the similarly themed multipart epic "Paranoid Android," "Subterranean Homesick Alien" arrives in the middle of Radiohead's masterwork as another voice of isolation in a sea of communication breakdown and technology-induced paranoia. "I wish they'd swoop down ... take me on board their beautiful ship," Thom Yorke sings over a skittering rhythm inspired by Miles Davis' Bitches Brew. The song's origins date back to Yorke's school days when he was assigned to write "Martian poetry." Here, his narrator welcomes a trip on a saucer to break up his everyday mundane life. (Michael Gallucci)
14. Graham Parker, "Waiting for the UFO's"
From: Squeezing Out Sparks (1979)
Showing up near the end of Graham Parker's excellent Squeezing Out Sparks, "Waiting for the UFO's" is an anomaly in the album's overriding concept about living at the end of the '70s. Among tracks like "Local Girls" and "Saturday Nite Is Dead," a song about anticipating the arrival of visitors from outer space seems a little out of place until you dig a little deeper. "This new obsession is turning us alien, too," Parker concludes, tying together matters of the heart, government conspiracies and extraterrestrial invasion. "We know that they're there." And Parker doesn't seem to mind at all. (Gallucci)
13. A Flock of Seagulls, "I Ran (So Far Away)"
From: A Flock of Seagulls (1982)
A Flock of Seagulls' extraterrestrial preoccupation began with their debut single "(It's Not Me) Talking." It then carried over to their eponymous debut album, whose breakthrough single "I Ran (So Far Away)" became the new-wave band's only Top 10 U.S. hit. They got a double dose of inspiration from watching a band at the Cavern Club in their native Liverpool playing a song called "I Ran" and seeing a picture of two people running away from a flying saucer the next day. "It was like, 'Look at that! First 'I Ran' and now that!'" lead singer Mike Score told Billboard. "We went to rehearsal that night, and the picture was in my head, and we started to try to formulate words about that. And when I'm playing live, that picture comes back into my mind." (Rolli)
12. Klaatu, "Calling Occupants of Interplanetary Craft"
From: 3:47 EST (1976)
For a time in the '70s, there was a buzz surrounding the Canadian prog band Klaatu that they were the resurrected Beatles in disguise. Fueling these rumors were the group's mysterious lack of appearance on record covers and their obsession with sci-fi themes. The epic "Calling Occupants of Interplanetary Craft" celebrates the very real World Contact Day when telepathic messages would be beamed to would-be outer-space visitors. An odd twist to the story arrived a year later when Carpenters released a faithful seven-minute cover version during a commercial downturn. It made it to No. 32. (Gallucci)
11. Megadeth, "Hanger 18"
From: Rust in Peace (1990)
In creating this metal classic, Megadeth was inspired by the UFO conspiracy theories suggesting that Hangar 18 at Wright-Patterson Air Force Base in Ohio is where the U.S. government hides aliens and their spaceships – such as the infamous craft said to have landed in Roswell, N.M. Then-drummer Nick Menza was credited as the band's alien believer, BUT the lyrics also tie into frontman Dave Mustaine's anti-authoritarian stance: "Military intelligence – two words combined that can't make sense." (Wawzenek)
10. The B-52's, "Planet Claire"
From: The B-52's (1979)
Built on top of the musical bones of Henry Mancini's "Peter Gunn Theme" (to the point that the composer received a writing credit), the B-52's' "Planet Claire" still somehow manages to sound like nothing else. A cosmic planetary soundscape takes shape in the long intro, which rolls for more than two and a half minutes before quirky Fred Schneider makes his entrance. Speaking in an appropriately alien cadence, it seems quite likely that he beamed in from parts unknown, rather than Athens, Ga. "Planet Claire" became a fan favorite and Schneider later reprised his role for a memorable Foo Fighters cover. (Wardlaw)
9. Blue Oyster Cult, "E.T.I. (Extra Terrestrial Intelligence)"
From: Agents of Fortune (1976)
Did you see a UFO if three men in black don't also appear to firmly warn you against recounting what you've seen? "Don't report this," those men say in "E.T.I. (Extra Terrestrial Intelligence)." The name "Balthazar" appears in the song's chorus, a possible reference to one of the Bible's Three Wise Men – or perhaps Shakespeare's Romeo and Juliet. (Balthazar is the character who informs Romeo of Juliet's death. "He's found the awful truth," Blue Oyster Cult's Eric Bloom sings.) It could also be about Dennis Balthaser, a well-known independent UFO researcher who focused primarily on the Roswell incident. (Rapp)
8. Deep Purple, "Space Truckin'"
From: Machine Head (1972)
Leave it to Deep Purple to find a way to take the rigors of their normal touring life and make a space song out of it. Somehow, the daily grind of the road feels better if you're in outer space, doesn't it? "We've rocked the Milky Way so far, we danced around with Borealis / We're space truckin' round the stars," Ian Gillan sings over a jaunty rhythm, setting the proper tone. Clocking in at a compact four and a half minutes on the Machine Head album, "Space Truckin'" took on a whole new form in concert and was often their closing number. One version, recorded live in London, finds the members of Deep Purple jamming for more than a half hour. (Wardlaw)
7. Creedence Clearwater Revival, "It Came Out of the Sky"
From: Willy and the Poor Boys (1969)
John Fogerty employed a B-movie plot (even the song's name sounds like a schlocky sci-fi flick) for this Creedence Clearwater Revival track. "It" is never revealed to be anything; we just hear about what everyone else sees in the UFO that landed "a little south of Moline." In the chooglin' rocker, Fogerty explains that scientists seek a natural explanation. The Vatican sees a sign from God, conspiracy theorists blame the Communists, Hollywood turns it into a big-budget film and then-Vice President Spiro Agnew looks to profit from "It." (Wawzenek)
6. Parliament, "Mothership Connection (Star Child)"
From: Mothership Connection (1975)
This LP's third and final single might be the most important since "Mothership Connection (Star Child)" is where George Clinton's extraterrestrial alter ego was first introduced to the world. "Starchild here," he proclaims, "citizens of the universe / I bring forth to you the good time." The entire album focused on the outer-space theme and the subsequent tour also featured a massive spaceship prop onstage. "We had put Black people in situations nobody ever thought they would be in, like the White House," Clinton told Cleveland Scene in 2006. "I figured another place you wouldn't think Black people would be was in outer space." (Rapp)
5. The Byrds, "Mr. Spaceman"
From: Fifth Dimension (1969)
This hit single – along with "5D (Fifth Dimension)" – led to the first use of the term "space rock." The country-rock jangle of "Mr. Spaceman," of course, bears no resemblance to the progressive rock epics that would be associated with that term in the '70s but the subject matter of this two-minute Byrds tune is nevertheless right at home with those later works. Roger McGuinn wrote the light-hearted tale about a man who is visited by UFOs every night but is disappointed when they refuse to bring him aboard and take him for a spin around the universe. McGuinn hoped that extraterrestrials might be encouraged to contact Earth if they heard the song on AM radio; unfortunately, AM signals dissipate quickly in outer space. Thanks for trying, Roger. (Wawzenek)
4. Yes, "Starship Trooper"
From: The Yes Album (1971)
The arrival of Steve Howe in 1970 was a pivotal moment for Yes. "It definitely upped our level of writing," late Yes bassist Chris Squire told UCR in 2013. Their new guitarist brought in the music for "Wurm," the closing section of "Starship Trooper" featuring an epic guitar solo that is one of Howe's best. In the opening moments of the song, Yes vocalist Jon Anderson points out the mysteries of life, cautioning that some things among us are best left in the dark. "Though you've seen them, please don't say a word / What you don't know, I have never heard." A journey in three parts, "Starship Trooper" is a fascinating trip that's worth taking every time. (Wardlaw)
3. Blondie, "Rapture"
From: Autoamerican (1980)
At the same time that punk and new wave music began budding in New York venues in the late '70s, so too did the city's rap and hip-hop scene. Debbie Harry and Chris Stein, friends of hip hop artists like Fab 5 Freddy Brathwaite, drew from the freestyle groove of local rap MCs when they wrote "Rapture," a six-plus minute science fiction-inspired song about an extraterrestrial beamed down from Mars who eats bars, cars and guitars. By the end of the track, the man from Mars decides Earth is too much for his taste: "Now he's gone back up to space, where he won't have a hassle with the human race." (Rapp)
2. Styx, "Come Sail Away"
From: The Grand Illusion (1977)
This classic rock radio staple from Styx is neatly split into two parts. There's the baroque, piano-ballad portion, which presents a lonely ship captain on the open sea, and there's the guitar-fueled finale, which is where the UFO comes in. Angels, who are aliens, rescue the depressed captain and crew and take them on a journey into the final frontier – filled with spacey synthesizer and keyboard effects. Dennis DeYoung said he wrote this song because he was sad about his band's lack of success at the time. Like the extraterrestrials in the song, "Come Sail Away" rescued Styx and became one of their biggest hits. (Wawzenek)
1. David Bowie, "Starman"
From: The Rise and Fall of Ziggy Stardust (1972)
You couldn't have a UFO songs list without David Bowie. From "Space Oddity" to "Loving the Alien," the Thin White Duke wrote and performed a fair share of sci-fi material – including Bowie's most famous album. Contrary to what many think, the character of Ziggy Stardust isn't an alien, but merely an earthbound messenger who speaks for otherworldly beings that could rescue Earth in the last five years of humanity's existence. "Starman" tells the story of teenagers who hear Ziggy's message about alien beings who are "waiting in the sky" and will land their ships if the young people can "sparkle" for them. The song is a key moment in the story of Ziggy, but also Bowie's career. "Starman" was his first British hit in the three years that followed the release of "Space Oddity." (Wawzenek)
Rock's 20 Most Far-Out Concept Albums
Let's return to some of the most ludicrous, messy, weird and wild records, originating from all corners of the pop music globe.
More From Ultimate Unexplained