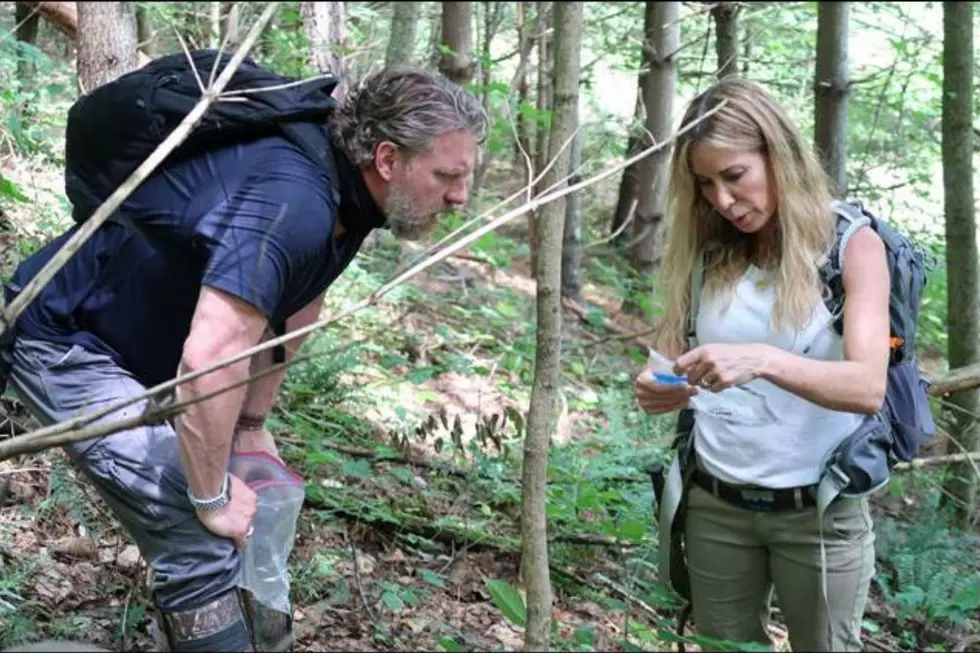 Possible Bigfoot DNA Evidence Uncovered by a Discovery+ TV Show Crew Somewhere East of Lexington, Kentucky
Discovery+
The team behind Discovery+'s Expedition Bigfoot has collected some new DNA evidence that could link back to the elusive woodland creature.
The crew on the show consists of four key researchers, Bryce Johnson who does expedition operations, Dr. Mireya Mayor who is a primatologist, Russell Acord the ex-military/survivalist, and Ronny LeBlanc a Bigfoot researcher. During a two-month research journey that started in Kentucky and switched mid-expedition to Washington state, the crew used the latest and most advanced technology to try to track down Bigfoot.
During their time in Kentucky, Dr. Mayor and LeBlanc collected soil from under a massive tree structure deep in the wilderness of the Appalachian highlands. The eDNA, or Environmental DNA that was in the soil is what is being researched heavily. This eDNA is genetic material naturally left behind by animals in the environment, and scientific analysis of it can help identify living creatures that came in contact with it. IT is a revolutionary new tool that is being increasingly used to confirm the presence of elusive animals, like Bigfoot.
The sample of the soil was sent to Miroslava Munguia Ramos, the project manager at the UCLA California Environmental DNA program. Here is what she found:
"We received soil samples from your team and took a few months to get them processed. What we're looking at are the unique organisms that we were able to identify. Our software does what's known as metabar coding. So, it'll match up all the DNA sequences that we were able to detect and try to cross-reference them with the thousands of genomes that have been published and it's pretty common that when we're looking at environmental DNA samples, we detect humans, because there's going be human traces almost everywhere."
"But what I found very interesting was that, yes, we have detected human DNA in these areas, but we're still seeing different primate DNA. There wasn't just one human primate, there are several different primates, some sort of primate relative that exists in the data."
"Pan troglodyte is a species of chimpanzee, which you would not see in the areas you're at. It's a real head-scratcher. It's important to note that the higher the detection, the more confidence we can say that whatever organism, whatever taxonomy we're looking at was apparent in the area. And in this case, we're looking at the Pan genus, or the chimpanzee genus…. there's 3000 reads."
"The technology is constantly improving, it's getting more accurate, and now it just really comes down to making sure we have enough samples and we're confident that whatever we're studying is a unique species."
Dr. Mayor added to these findings explaining that the structure the sample was taken from was a large one, and primates are known for stacking sticks and rocks, but whatever made this "required great strength". She also mentioned that indisputable genetic evidence is what it is really going to take to prove there is a Bigfoot-type species.
Expedition Bigfoot is currently airing on Discovery+, and the episode featuring this eDNA evidence will premiere on Sunday, March 28.
Creepy Statue In Kentucky Woods Remains a Mystery
Are Ghosts Haunting the Mushroom Mines of Kentucky?
UP NEXT: Fascinating Bigfoot Reports From Each Michigan County
More From Ultimate Unexplained