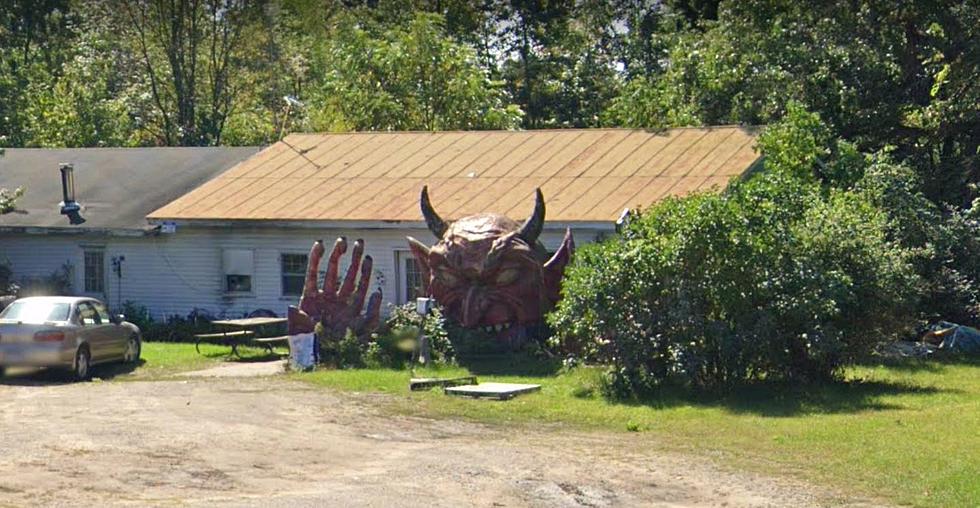 Satan Greets Drivers at this Front Yard Pumpkin Patch on US 10 near Ludington, Michigan
Google Maps Street View
Some people have pink flamingos in their front yard. Others choose garden gnomes. For this home along US 10 in the northern Michigan hamlet of Wahalla near Ludington, Michigan, it's a gigantic image of Satan.
The devilish lawn ornament has been surprising, delighting or unnerving passersby along US 10 for several years.
The home, a private residence, is well known in the area for selling pumpkins in the fall leading up to Halloween.
The roadside Satan was recently shared to the Abandoned, Old and Interesting Places in Michigan Facebook group.
A commenter who has visited the pumpkin patch relates a story that the devil head and hands once were used by an amusement park out east:

I talked to the lady at this house
Her husband and her bought this in Pennsylvania it was the entrance to an old amusement park ride. They had had several haunted houses here in Michigan they had used it for. After that business was over she decided to put it in her front yard. The lady had told me she sells pumpkins for Halloween and she displays them in front of this devil.
So stop by in the fall and grab your pumpkins but maybe just don't linger after dark.
Explore more from the darkside from rockstars, celebs and tales that surround them to real live true-crime locations today:
25 Celebrities Who Practice Witchcraft or the Occult
25 True Crime Locations: What Do They Look Like Today?
Below, find out where 25 of the most infamous crimes in history took place — and what the locations are used for today. (If they've been left standing.)
More From Ultimate Unexplained